Check out Short Personal Statement Examples
Unique Short Personal Statement Examples
A common mistake unknowingly committed by the majority of admission applicants is in their personal statement. While other documents such as qualification transcripts, essay paper are provided with question and guidelines, personal statement is completely a single affair with no hard and fast rules. It is a test to see how well an applicant can project oneself while showcasing their positive attributes. But certain flexible rules do apply in a personal statement which you might not be aware of such as length of the personal statement. UCAS restricts the length of the personal statement of admission application to 47 lines, that is, 4000 characters. For assistance, we provide short statement samples that you can use to know the technique to stuffing relevant information within those 4000 characters.
Constructing the Most Important Part of a Personal Statement
A supposedly very important part of the personal statement example that the selection committee looks for is why you are taking up the course. This is a very crucial part where you need to build your relation, inclination and interest for the subject or course of study very well.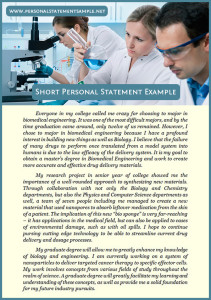 Here are some pointers for help:
Keep aside your grades and achievements and concentrate on valid reasons that will showcase your commitment to the course of study you have applied for. If you succeed to show the selection panel your commitment you will get the admission or else even your high grades won't be able to save you.
Do not be in a hurry while selecting your course of study as it leads to confusion later on. Check all the subjects and be sure of what your select. If you aren't confident of your course you might end up wishing to opt for a different course by the end of the session. It is a total waste of time, money and effort. If you are sure you will be able to reason out naturally in your personal statement.
If you have the knowledge of the subject and are inclined to study further that is fine. You can mention about your interests in the subject in your statement without being specific about the course of study.
You sure, confident and commitment to your chosen course should come across in your personal statement naturally. The selection panel is very thorough with personal statements and a copied, unnatural and confused statement will not be selected.
Short Statement of Purpose Examples Available at Reasonable Rates
Along with the personal statement you can also "avail the statement of purpose" for your admission application. It is short, accurately written and very cheap. Live chat with experts and solve all your queries concerning psychology personal statement examples or anything else!
Make use of the top quality short personal statement examples to make your final admission application the best one!