Good Psychology Personal Statement Examples
The Best Crafted Psychology Personal Statement Examples
If you are applying for admission in an academic course in psychology in a prestigious college or university then there will be many candidates with good grades who will be seeking admission in the same institutes. To get selected the only chance is your personal statement psychology where you have the scope to craft your skills, achievements, ideas, experiences and so in the best way possible.
The statement is an opportunity as the selection committee can be impressed only through the personal statement if the grades are similar. But to do so you need to have a clear knowledge and understanding of how a personal statement should be crafted. Our personal statement examples, specifically psychology personal statement examples, can come in very handy on these occasions.
How to Start with Your Personal Statement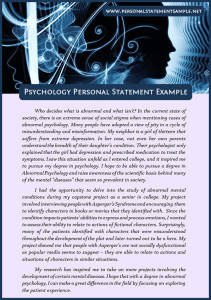 The toughest is starting the personal statement as you do not know where to start from. The best you can do is to write down points that are important and showcase your skills and positive attributes without thinking about writing the statement at the very beginning. Divide each point under an appropriate heading to make things clearer.
So here are three headings to help you through:
Your chosen course of study and reasons for choosing it: Under this subheadings you may add the aspects of the study that inclined you to take up it as your career, projects you submitted related to the study/course, your interest in practical projects of the course that you volunteered to take up, all kind of journals, books and related information you have read, conferences, seminars, discussion on the topic you might have attended, your work experience if any on the related study, what are your future hopes that led you to take up the course, your tasks and real life situations that how you as a reliable person, school events, charity work and other such related event participation, any awards that you might have gained etc.
Specific skills: Your hobbies, what sort of sports and creative activities you prefer to spend your spare times, prizes you might have won at a musical concert, in a drama or in art etc. You may also mention the various languages you can peak.
Gap year (if applicable): You need to mention how you are going to utilize the gap year and the reasons for it. Mention it only if it is mandatory or else it's best that you avoid it.
Personal Statement Examples Psychology Is Affordable and Convenient
We do not charge much for providing the sample. We are always available online, even during the odd hours. So, whenever you are surfing for an "appropriate sample" you can avail one from our archive. We have various statement samples on psychology. Call us for other discount offers or to get general personal statement examples!
Psychology personal statement examples id easy to get with our professional help! Check out them now!