Master Degree Personal Statement Template
If applying for the university or college were difficult, then what more if you would be applying for a master's degree, where the slots are much more limited and all not mentioning that the guidelines were tougher. To get started correctly with a good masters degree personal statement, check out the following tips that will increase your chances to succeed by focusing on the quality content of your paper. If you're ready, let's begin.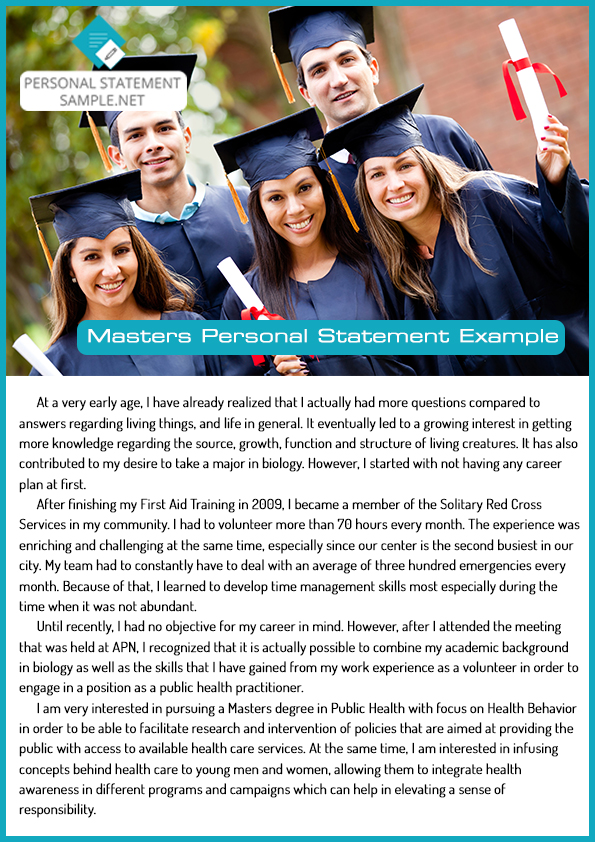 Brilliant Masters Degree Personal Statement Tips
When structuring the personal statement for masters, you should focus on what areas, qualities and skills that the university or institution value above all. This will help you structure your content in a way that is most applicable for their goals, missions and visions as well as with the characteristics they are looking for potential candidates.
In writing, you should also think of the proper structure, including English style, such as UK English or US English.  Speaking of proper structure, do not be tempted to using bold, underline and italics because you have to write this paper in a plain, professional manner. This is not the venue to become creative.
In terms of the tone, keep it consistent and enthusiastic. You don't have to be too serious and put the readers into sleep. Instead use a positive voice all throughout your paper and show off your humor, but by saying humor does not mean your crack jokes. It is just that you have to reflect excitement and youthful outlook in life in your personal statement for masters.  Caution though, avoid using quotations and clichés, but write something you own. Perhaps, these things have been written more than a million times, and you don't want to sound mediocre, do you?
Get things right by writing using the perfect grammar and spelling. You don't want to show the readers you have just learned your ABCs today with poor presentation and erroneous personal statement. Look at how the best masters personal statement examples are written and see what this means.
Format according to specific institution instruction, so you have to be careful not to send out the same personal statement across the universities you want to apply.
A perfect opportunity to review an incredible pharmacy letter of intent sample!
Get Started With Personal Statement for Masters Today!
Study your options well and perform a good research prior to writing in order to know what to write and what not to write in the personal statement as per school instructions and guidelines.