Best History Personal Statement Examples
Crack Your Admission Opportunity with History Personal Statement Examples
Besides your skill and achievements there are many important elements that are looked into by the selection panel when reading a personal statement. So, it is not going to be an easy task to impress them. You need expert help on how to write a personal statement and we are here to provide you exactly that. Our history personal statement examples are prepared by expert and experienced writing who are well aware of all the details about the pros and cons that go into writing a personal statement. It is a good thing that there are the samples to guide you through your entire writing process. You have to perfect your language, consider the appropriate structure, include the relevant points and eliminate the irrelevant ones and all these need to be limited within 4000 characters/ 47 lines (as per UCAS).
Know About How to Structure Of Your Statement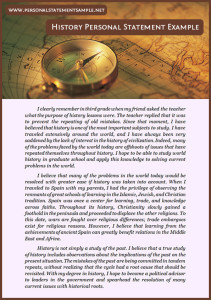 After acquiring the basic knowledge and ideas you can start of writing the personal statement. For the structure avoid writing one huge paragraph containing everything in it. Divide into segments. You may use headings if your wish. Here are two ways to structure your statement:
-First Method: you can divide it into two equal parts. In the first 2000 characters you can discuss the subject/course and reasons why you opted for it. In the other 2000 characters you can write about your skills and abilities.
-Second Method: You can segment your statement into 6 paragraphs. In Para 1, introduce your subject and why you are interested in pursuing it. In Para 2, write about those things that you did in relation to the subject such as attending seminars, doing projects, attending discussions etc. In Para 3, discuss about your work experience in relation to the subject. In Para 4, mention other relevant activities in school or college. In Para 5, Talk about you as a responsible, confident and committed person and show it in discussion to your activities outside school. In Para 6, write about your goal and conclude with a good phrase.
High Quality Personal Statement Examples History
The personal statement sample for history subject that we offer will serve you as a template. There is no copied content from any book or online document. It is 100% original written and crafted by experts who know the fundamentals of writing a personal statement. It is not just a document attached with the admission application but it is the only document which gives you scope to stand out and "make a statement" to impress the readers. You don't need to overdo it, just be natural and keep it honest, structured and simple. Placing the order is simple and convenient. You can avail a free quote and know the rates.
We are available 24/7 at your service, drop a mail/call us to get pharmacy personal statement example or any other sample!